EDS India: The Perfect Blend of Young & Veteran Talents Engendering World-Class Electronics Design Solutions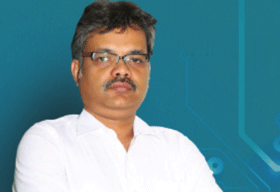 The surge of energy-efficient electronics market is forcing manufacturers to innovate new devices consuming less energy in a data driven and informed way. Withstanding this pressure takes big wheels, often new ones, as attested by the evanescing of several established electronics giants. Manifesting an exemplary way of surviving this surge & need for continuous innovation and thriving forward against the odds is a Delhi-based design specialist - Embedded Designs Services India Pvt. Ltd. (EDS India) by perfectly blending young energetic minds along with industry veterans who boasts of more than two decades of industry experience.
Marshaled under the strong leadership of Santanu Roy (Managing Director), who brings in more than 20 years of Electronics Design expertise churned out from global semiconductor giants like STMicro electronics and Pentair Inc. through his decisive roles, EDS India (ISO 9001-2015 certified) has grown three folds in the last two years, inscribing success anecdote across India and even beyond the boundaries of our country. It's no secret sauce that did the magic, but staying strong on its mission to provide robust technology solutions and thus securing the best position in the eyes of its customers and employees. "Design is our passion, not profession. Being fanatically passionate, we deliver on-demand solutions in a timely manner, which enables us to grow in the eyes of our customers," elucidates Santanu.
A Whole World under One Roof
Travelling ahead of time, trends & burgeoning technology demand driven by its rich R&D efforts, EDS India caters to every requirement in the electronics product development domain under one roof, starting right from Architecture Design to complete Hardware & Software solutions and Mobile Apps(iOS & Android). Tapping into Power Electronics, Analog & Digital Systems, Communication Solutions and Embedded Hardware Solutions, and incorporating Embedded & System solutions and Applications in its software offerings, the company serves across delicate verticals such as Consumer Electronics, Industrial Automation, Automotive Industry, Robotics, IoT and much more. "India has a good pool of resource talent in possession in the field of software design, but the country lacks stable hardware designs. We carve out our niche here," affirms Santanu.
While EDS India's flagship design service brags about true color RGB Video Wall designed across 32-bit ARM Cortex controllers against the myth that video solution requires high processing power of FPGA,it's appreciable that the company is well-versed with designing anything from as simple as a power supply to complex systems like automated test benches, smart home automation, studio lighting, and tracking systems. It possesses a state-of-the-art design lab equipped with latest hardware design& development tools/software and
exalted with high-end automated test benches calibrated time-to-time. Coupled with comprehension and commanding prowess over the complete product design life cycle, EDS India provides reliable, economical & fail-safe designs to its customers, not to mention the prominent quality.
Design is our passion, not profession. Being fanatically passionate, we deliver on-demand solutions in a timely manner, which enables us to grow in the eyes of our customers
Serving Uncompromised Quality
"Unstable designs that perform well in the lab environment but fail in the field have been a curse to the industry over the years. Thus, we start our design cycle from the basics of electronics and finalize our product in actual field conditions, which enable us to provide robust hardware solutions that withstand the varied conditions of our vast motherland," adds Santanu. Indeed, besides its ISO design certification, EDS India further consolidates its quality proposition with BIS certifications for its Vehicle Tracking Systems and LED Video Wall solutions.
EDS India's contributions towards public sector have been impeccable. Its major clientele includes Indian Railways and Airports with primary focus on Passenger Information System. While revamping a public facility in our country can be acknowledged as one of the herculean tasks for any tech-organization to deal with, EDS India has a history of collaborating with clients like Electronic Equipment Company to revamp the complete Passenger Information System at one of the busiest railway stations in India - Sealdah Railway Station, Kolkata within a span of 30 days. The dedication and determination remaining par with its efficacy, EDS India made itself flexible enough to work round the clock. The design & testing activities were carried out in normal shifts, whereas installation and commissioning consumed the night shift. Santanu adjoins, "We have a complete eco system for project management and execution, consisting of expertise from our dedicated team of engineers and executors".
Being the pioneers in designing complete indigenized video solutions, EDS India has also made significant design contributions to its client - Infosoft Digital Design & Services Pvt. Ltd. to install more than 30 LED (true color RGB Video Wall) screens across PAN India - in 21 Airports and close to 50 Railway stations during the year 2016-17. Reflecting every Indian's aspiration towards enlivening the Indian Railway System to most advanced, EDS India currently invests its efforts in a brand new signaling system. Though just in the preliminary design stages now, the fruition of the project will host a paradigm shift in the traffic/train signaling system as we know it today.
The Proportional Success– Today& Tomorrow
"We strongly believe that our success lies in the growth of our employees, as elucidated by our mission statement. Our team is highly motivated with the growing achievements of the organization, and thus each member finds their best version every day," adjoins Santanu. Came into existence in 2015, EDS India confronts no startup-hiccups, as it homes a 15 people strong humble team with an average industry experience of over 15 years. Owing to the dynamic technology landscape around the sphere, the company goes beyond ascertaining a growth-favorable milieu with an open work culture where designers get a 'free-hand' to ceaselessly educate its people. It encourages them to undergo internal and external training sessions in a timely manner.
With immense support from the backend, EDS India today is delving deeper into the largest and fastest growing manufacturing industry in the world. Currentl it has a turnover of over $22,5000, wherein design services take the charge with 68 percent share. With the same shoes and rails to ride, EDS India looks forward to becoming a $2 million worth company by 2020 and envisions exploring more geography, beyond the boundaries of our subcontinent.
Key Management:
Santanu Roy, Managing Director
Started his career in 1996, Santanu has a vast experience in different domains like Hardware Design, Power Electronics, Embedded Controls Systems,System/Application Software, and Android/iOS Apps. A great mentor, he leads the team with immense passion.
Offices:
New Delhi(headquarter) & Calcutta
Offerings:
• Hardware Design (Circuit Design, PCB Layout Design(8l), PCB Prototype, & Integration Testing)
• Software Design (Required Documents, Flow Charts & Algorithm, Coding, & Testing)
• Engineering Design (Engineering Drawings, H/W & S/W Integration, Documentation, & Mechanical Designs)
• System Integration (Onsite POC, Design Validation, Certification, & Trainings)