EdCast: The 'Netflix' of Knowledge & Learning Content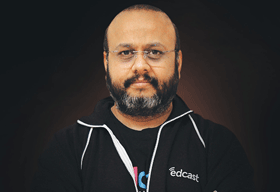 On the flip side of the coin, oncelaughed out of Blockbuster's headquarters duringa partnership discussion, Netflix ultimately emerged on top.They set new benchmarks in leveraging technology, content-curation and personalization. Let's face it - shortage of content for learners is not the problem. Finding the right piece easily, when it is needed, is. If Netflix can offer you a host of 'That 70's Show' forth with you finishing a season of 'Friends', learning and development (L&D) should be able to curate & personalize content to enable your busy team the information they need when and where they need it.
Leading this novel knowledge management and upskilling revolution is EdCast Inc.– a Silicon Valley based organization, which powers an AI-powered Knowledge Cloud to electrify on-demand Knowledge Sharing, Personalized Learning, Upskilling and Sales Enablement in the most engaging ways of learning. One of the world's fastest-growing SaaS and cloud-based platforms which heavily leverages leading-edge technologies in Natural Language Processing (NLP), Machine Learning, content curation and personalization, EdCast has become the 'Netflix' of Learning within four years from its establishment.
Hosting a Revolution of Content Curation & Personalization
While scrutinizing the aforementioned Fortune 500 casualties and present day enterprise setbacks, rationale converses the same language - up to one-third of enterprises crush under inadequate preparation for sales, driven by challenges ranging from the dearth of tracking down the most relevant content in a timely fashion and key sales enablement tools. This is exactly where EdCast solves the problem. The company's state-of-the-art Cloud platform renders any form of content from education to power-training, upskilling and reskilling solutions that can help companies adapt into market needs, future-proof their workforce, and continue to succeed. It ascertains unified content discovery, highly personalized learning and knowledge management across public & private sector organizations around the world.
"Predominantly, the public-sector organizations worldwide are clouded by apprehensions of job-losses due to AI, robotics and new skill demands associated with the Fourth Industrial Revolution. They are in dire need of upskilling and lifelong learning solutions, such as EdCast, to manage these potential problematic effects," opines Karl Mehta, Founder & CEO, EdCast Inc. While deploying Machine Learning and AI to power their unique content relevance engine, EdCast ascertains access to over 200 million pieces of content against the world's largest taxonomy of enterprise-wide skills and competencies. The impact, however, has been huge.
The World Economic Forum had no second thought in choosing Edcast as its partner, when they recently launched a global initiative to upskill millions of techies directly addressing the challenges arising from automation and the Fourth Industrial Revolution. EdCast was also selected by NASSCOM and other industry giants in an initiative to reskill millions of Indian IT workers. Besides these, dozens of Fortune 500 companies today are EdCast customers, including Walmart, Accenture, Dell EMC, Kraft Heinz, Shire and Kotak Bank. Indeed, while the problem statements flare up in magnitude, it's not surprising that this award-winning platform is leveraged globally by government organizations and an entire gamut of G2000 companies to address the discovery, curation and personalized learning challenges of content fragmentation across external and internal knowledge sources.
"The most valuable content, the 'tacit' knowledge in the minds of experts, we can help release and build your own libraries of expert content with just the push of a button," asserts Karl. One thing that's as powerful as EdCast's solutions is its data security framework. The company boasts of multi-layered enterprise grade security with end-to-end encryption, privacy protection shields and compliance of SOC2 and ISO27001 for all these solutions.
Solving the Key Business Challenges
With comprehension that the end-consumers' needs are disparate from person to person and organization to organization, EdCast's AI-based targeting engine learns about teams and makes continuous learning recommendations directly to where they are working – including inside Slack and Salesforce. In addition, it provides a real time view of expertise-flow and knowledge across the teams, which in turn aids in identifying the most acknowledged, best connected, and influential team members.
The company's state-of-the-art Cloud platform renders any form of content from education to power-training, upskilling and reskilling solutions that can help companies adapt into market needs, future-proof their workforce, and continue to succeed
EdCast recently announced one of its most advanced learning solutions – the EdCast LRS (EdCast Learning Record Store), which allows mentors and analytics professionals to analyze learners' progress and their adoption of learning content. Made to look simple by delivering an intuitive and easy-to-use user interface, this robust analytics platform also enables the tracking of compliance-based reporting for learning and knowledge purposes.
EdCast LRS augments the company's award-winning suite of knowledge management systems that include an easy-to-use Learning Management System (LMS), Learning Experience Platform (LXP), SalesU - the dedicated sales productivity solution, and GuideMe -the multi-language in-app content-authoring solution. Having infused with Robotics Process Automation, GuideMe automates and completes several tasks while simultaneously providing in-app product support and guided training to make software applications much easier-to-use and intuitive, and thus reduceing support costs for CIOs worldwide.
Conquering the Opportunities
Today, while potential clouds are ready to shed a rain of opportunities over the L&D industry, EdCast is at the helm of leverage. Putting it in numbers, the global elearning market is anticipated to reach $65.41 billion by 2023, leaving immense room for organizations with an unique approach and vast coverage, just like EdCast serving across verticals such as Energy, Banking and Financial Services, Healthcare, Hospitality, Manufacturing, Retail, and Technology.
"We are witnessing a strong demand for our services, given the concerns about the pace of digital disruption, as well as the increased need for a smarter, better-trained workforce. Currently growing at a pace of over 300 percent year-over-year, we expect to continue at the same pace while pursuing the yellow brick road," concludes Karl. Nevertheless, EdCast deciphers this success as its responsibility for the future, and thus deliberately banks on its own proprietary knowledge-sharing platform to update its 150+ people strong workforce with AI-driven curated content related to the latest technology and industry developments. The exemplary act of manifesting EdCast's self-sufficiency emits a strong message of trust.
Key Management:
Karl Mehta, Founder & CEO
Karl was founder & CEO of Play span, which was acquired by Visa for over $240 million in 2011 and was winner of Ernst & Young "Entreprenuer of the Year" for Northern California for 2010. Karl served his tour of duty as a Presidential Innovation Fellow under President Obama and was named Top 50 CEO by USA Today in 2017
Patty Robertson, Chief Knowledge Officer
Passionate in conducting a learning revolution, Patty has over 25 years of experience in technology, management consulting, corporate strategy, and talent development.
Offices:
Mountain View (headquarter), New York, Mumbai, Indore & Bangalore
Offerings:
● Learning Record Store (LRS)
● Learning Management System (LMS)
● Learning Experience Platform (LXP)
● SalesU
● GuideMe
Client's Talk:
"EdCast's platform has helped us launch the largest program here at Kraft Heinz enabling a special type of social learning experience with great business impact. The EdCast team has provided excellent service to us and to our users." ~ Mani Gopalakrishnan, Head of Learning & Development, Kraft Heinz

"EdCast's innovative platform and support help us optimize the HP LIFE learner's experience. The EdCast team has provided excellent service to us and to our users." ~ Debbie Ledbetter, HP LIFE, Partnership Manager

"The EdCast platform has, indeed, been a transformational product encouraging higher adoption of learning through a great user experience. These capabilities are precisely what enable learning to an impact for the business at the individual and organizational level." ~ Manisha Singh, Schneider Electric, Director HR Systems (Learning & Development Transformation)